Tuition Agreement & Acknowledgment:
In addition to class tuition, there is a semi-annual $25 non-refundable membership fee per child or $30 per family (effective from September 3, 2012 through February 28, 2013 and from March 1, 2013 through August 31, 2013).
Tuition is non-refundable and must be paid in full before attending classes.
The Schedule is subject to changes at any time upon advance notice to all students via eligible email.
No refunds or credits will be given for missed, dropped classes or instructor re-placement.
I hereby grant consent and authorize the use of photographs, slides, videotapes and film of me/ my child participating in Acrobatic Rock'n'Roll Academy of Boston activities for commercial and art purposes in any medium of advertising, communication, publication or publicity that will promote Acrobatic Rock'n'Roll Academy of Boston programs, and/or recognition of participants.
Like us?
let's be friends on Facebook
News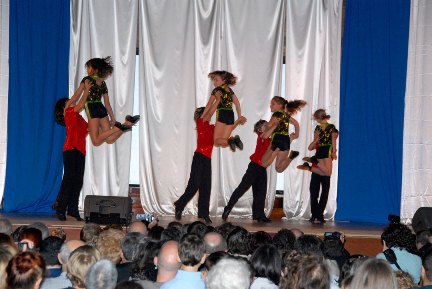 Our Acrobatic Rock-n-Roll Team performed at the charitable event, Children of Boston to Children of Sderot Concert, where Children of Greater Boston from the leading dance, music and theatrical studio...